Title: Wild Card
Author: Angel Payne
Release Date: October 18, 2016
**This WILD Boys novella was originally part of the ONE NIGHT IN VEGAS limited release box set**

White lace and promises…

Jen Thorne is more than ready to help her best friend tie the knot, sumptuous Vegas style—until she shows up at the rehearsal and catches sight of a surprise guest to the festivities. Sam Mackenna, a Scottish RAF pilot on loan to the Air Force for cross-training, has been the object of her secret erotic fantasies for months. But even with romance in the air, a hunk like him is hardly likely to choose a geek like her.

A kiss for luck…

When Sam and she are unexpectedly alone, the gray-eyed warrior entices Jen to share her deepest fantasies—then throws the wildest card of all into the mix. He wants to the chance to make as many of them come true before dawn's light.

One night. The man of her dreams. A wild card worth playing, or an invitation to the biggest disaster of them all…

What if her heart gets shuffled into the playing deck?
Wild Card was a very quick read. As it was originally part of an anthology you would think it would be almost too quick, but it wasn't. Wild Card is the story of Scottish RAF pilot Sam and US Air Force employee Jen. While Jen isn't in the Air Force she works for them. Sam is "on loan" to the US Air Force. They meet and form a friendship. But both are secretly attracted to each other.
Sam, like many of Angel Payne's lead men, is all Dom, and Jen is submissive. While she hasn't explored her submissive side she is definitely interested. While the story is short I got a feel for both characters and really liked both. They were hot and steamy, but still sweet and romantic. The ending was particularly sweet.
Wild Card was a good, quick read if you're looking for light BDSM with an accent. I give it FOUR STARS!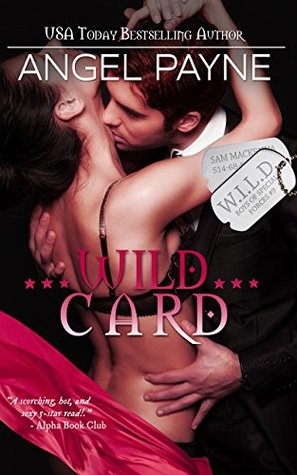 USA Today bestselling romance author Angel Payne has been reading and writing her entire life, though her love for romances began in junior high, when writing with friends on "swap stories" they'd trade between classes. Needless to say, those stories involved lots of angst, groping, drama, and gooey kissing.
She began getting a paycheck for her writing in her twenties, writing record reviews for a Beverly Hills-based dance music magazine. Some years, various entertainment industry gigs, and a number of years in the hospitality industry later, Angel returned to the thing she loves the most: creating character-based romantic fiction. Along the way, she also graduated with two degrees from Chapman University in Southern California, taking departmental honors for English, before writing five historical romances for Kensington and Bantam/Doubleday/Dell.
Angel found a true home in writing contemporary-based romances that feature high heat and high concepts, focusing on memorable alpha men and the women who tame them. She has numerous book series to her credit, including the Kinky Truth series, the Secrets of Stone series (with Victoria Blue), the W.I.L.D. Boys of Special Forces series, and the acclaimed Cimarron series. Temptation Court, a new series being launched through the Dark Nights Discovery project, debuts in 2016.
Angel still lives in Southern California, where she is married to her soul mate and lives on a street that looks like Brigadoon, with their awesome daughter and Lady Claire, the dog with impeccable manners. When not writing, she enjoys reading, pop culture, alt rock, cute shoes, enjoying the outdoors, and being a gym rat.